Cost of kitchen remodeling
Costs for a kitchen renovation
Lower-end kitchen:
Kitchen remodels can start at $10,000 for under 100 square feet with budget-friendly finishes SITL Home Renovation and Design has done a low-end kitchen for around $10,000 that was around 100 square feet. This budget includes regular kitchen cabinetry and quartz countertops with no displacement of appliances in the existing layout.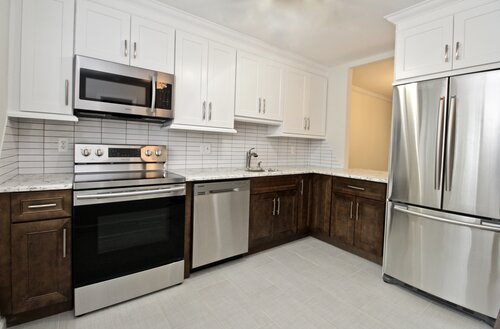 Mid-range kitchen:
A typical mid-range kitchen remodeling in Fairfield County can be around $20,000-$25,000 with plumbing service for installation of kitchen faucet, dishwasher connection included in price. This price is based on a 150-200-square-foot kitchen with quartz countertops, a standard sink, and faucet, with an electric range, a built-in microwave with a ventilation system integrated into it not a separate vent. It also includes a garbage disposal, recessed lights, and tiled floors.
High-end kitchen:
For a kitchen renovation of that scale that will mean custom Italian cabinets, with the best materials available on the market, and dealing with the extra price for switching appliances and fixtures around the kitchen. A kitchen renovation of that scale can come to north of $80,000. The cabinets themselves can reach a price of $50,000, the countertop material imported from Italy or elsewhere, and changing the layout of the kitchen can also bump up the price when involved a potential plumbing and electrical work.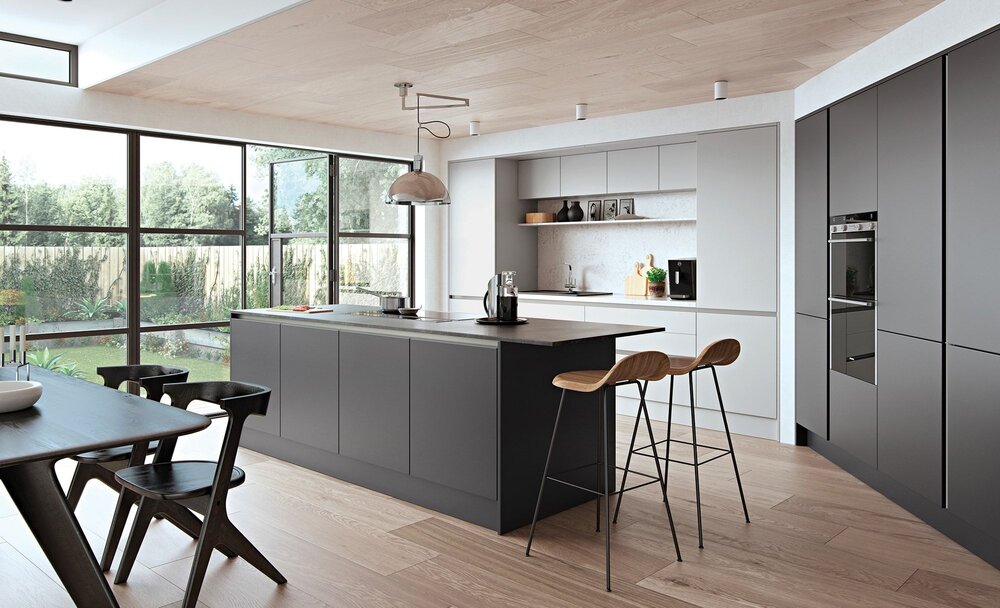 Calculating how much your kitchen remodel will cost by planning carefully is totally possible so you can avoid surprises during the remodeling.
When looking at a potential kitchen renovation lately, we are advising the homeowner the first step of his remodeling process will be having proper plans of his/hers ideas of what their dream kitchen is supposed to look like.
Our prices for 3D Visualization are very competitive and if you use our service to do your home remodeling project will refund half of the charge for the 3D Visualization.
It's difficult to estimate the overall costs of the renovation without creating a home design to determine the amount of work that needs to be done. Also, our clients would like to know first if they could afford what they want before they start planning and working on their remodeling project.
To help our clients understand the process easier, we decided to share some information on how much all different aspects of the remodeling could cost and the mistakes to avoid when remodeling the kitchen.
Kitchen remodeling specifications matter
First, we need to determine some measurements. Certain kitchens are old and large, or some are small and practical. For this calculation, I am going to use a 125-square f kitchen. Most kitchens we remodel are between 100 square feet and 250 square feet — so 125 square feet is right in the middle.
Second, let's talk about the level of finishes. When talking about a kitchen remodel, I typically refer to three levels: entry-level, mid-range and high-end.
Third, I'm assuming the kitchen layout will stay the same, but the remodeling will bring it up to code, correcting typical plumbing and electrical issues.
How much should kitchen design cost?
A huge percentage of the designers will charge 8% to 10% of the total home remodeling cost. However, the final dollars spent will depend on a low, mid-range or high-end kitchen you'll choose. Most remodels that cost $10,000 to $20,000 will have a kitchen remodel designer cost of $2,000 to $4,000. But all that will come as an expense if you hire the designer separately and not using a company like SITL Home Renovation and Design that will include that cost as a discounted amount included in the entire package with the renovation.
That's why we at SITL Home Renovation and Design offer our clients to design their kitchen on a price included in the total price which will be very symbolic price way lower to a price any designer in Fairfield county will charge for that.
Costs to remodel a kitchen
The following kitchen remodel costs are guidelines. Each remodeling project is different, but if you use these guidelines when talking to general contractors or construction companies you should be on the same page as the contractor when discussing price.
The prices are broken out by entry-level/midrange/high-end. If the price stays the same for each level, there will just be one figure.
Additional kitchen remodeling costs
A professional remodeling company like SITL Home Renovation and Design will include charges for project management, the company's overhead and profit. These costs vary by company, but on average, professional project management equals about 11 percent of the project's cost. Most companies make between 8 to 10 percent profit, and the cost of running the business — aka overhead — can be 12 to 18 percent.
Also, if you move the location of the appliances or plumbing fixtures during your kitchen remodel, keep in mind the kitchen sink is usually the most expensive cost of any of these moves. Displacing the location of the sink and dishwasher can add to the plumbing cost between $1,500 and $3,500 — in addition to the remodeling cost.
Moving windows to upgrade your kitchen design also is a cost that you may not be able to absorb easily. It's safe to assume around 2000$ per window moved.
Quality kitchen design is key
One final word of caution: Don't skip on the kitchen design. Try to be accurate as much as possible on the remodeling plan that shows every detail of the renovation so those involved in the execution of the project understands it and stick to it. Proper planning often reduces the length of a kitchen remodel by 30 percent. Good plans can also reduce the cost of unwanted mistakes if you decide to change something during the kitchen renovation because ones it is installed will look way different than what you imagine it will look like.
Kitchen Remodeling Price Breakdown
Plans could cost from $400 to mid-range $2000 to $3500 for high end.
Permits cost is variable as well based on the city but $500 to $2000 it's a good amount to be set on aside for that.
Demolition between from a $2000 to $5000 for a really large kitchen including the dumpster container and fees.
Plumbing will set you back from $2000 to $3000 to up to $6000 for a very high-end kitchen.
Electrical: $2500 to $3200 to up to $5000 if you adding multiple light fixtures.
Cabinets from $5000 to $10000-$15000 to really above $50000 for a very high-end kitchen.
Appliances from $2500 to $6000 to almost $15000-$20000 for high end appliances like Bosch or Subzero fridge
Flooring from $1000 to $3000 to $5000-$6000 for the tile work and backsplash.
Was this Article helpful?Yes
(0) No
(0)