6 tips when choosing kitchen cabinetry for your home renovation
1. Choose a Cabinet Doors first
Cabinet doors are the most important part in your kitchen, so the door style is what stands at most when you enter so choosing it is very important. The easiest way to go through all different options is the choose the doors profile before everything else.
You want a more modern filling with a classic look that would last for years ahead or you want a kitchen that differs from everything else on the market. You liked the look of the slab, but it is kind of too modern for your taste. those are different thoughts you may have when choosing a kitchen doors. After that decision is made you can proceed towards the next step.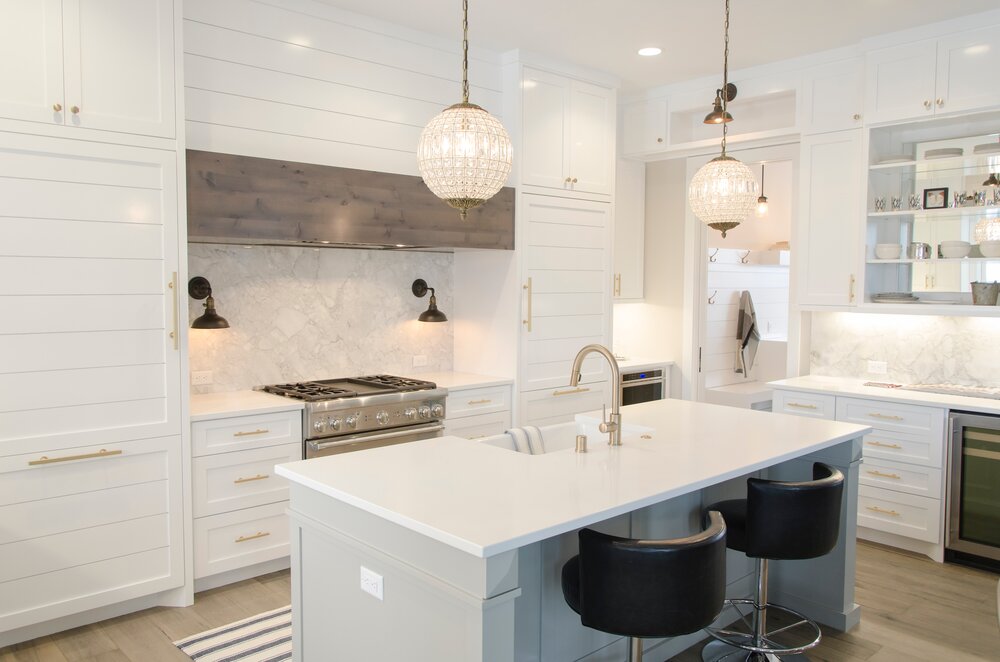 2. Narrow Down Your Favorite Cabinet Door Styles
Next decide on the style. A lot of times, this is easily narrowed down by budget. So with your budget and door profile in mind, the choices get easier. Our costume cabinets suppliers Kith Kitchens, Fabuwood, Cubatic, FGM, Forevermark, Alusso and Shiloh Cabinetry carries many gorgeous styles. SITL Home Renovation and Design will assist our clients with the design of the kitchen cabinets. Just take four photos max and don't go back to the cabinet samples! Look through your photos and delete the ones you don't love. This should lead you to your top choice for a cabinet door style. Next stem will be to use our 3D Visualization service to see how the chosen cabinets will look like in your kitchen layout.
3. Know Your Wood Type and Color
I think most of us know what our dream cabinet color and finish would be. If you aren't sure about the type of wood, then ask our experienced kitchen designers or project managers of SITL Home Renovation and Design who will walk you through the process. After deciding on a style and finish for your cabinets, think about your kitchen's functionality. You are the one who will spend the most time in it so think well what is the most important for you.
4. Think About Both Function and Beauty
Nowadays you have so many different options to choose from a new cabinets. For instance, you can go with more drawers under the counter tops rather than shelves which actually are very popular lately just because you don't have to go on knees and keep digging inside a small pan t hat fall behind all others inside the cabinet. That will be a grate change to choose for yourself. Once you settle on the type of design, there is another step that you can make to increase personality with decorative or textured glass doors. If you haven't heard about QuietClose? This is a premium hardware for kitchen cabinetry that is attached to the hinge and start working when the door is 1 inch from closing. That device creates a smooth, silent self-closing movement. We are very proud that all brands SITL Home Renovation and Design work with has that kind of hinges as an options for their clients. Your kids wont be able to slam the doors or leaving the drawers open in your kitchen, they will close all the way by them self. A very important option I would definitely want when buying my kitchen cabinets.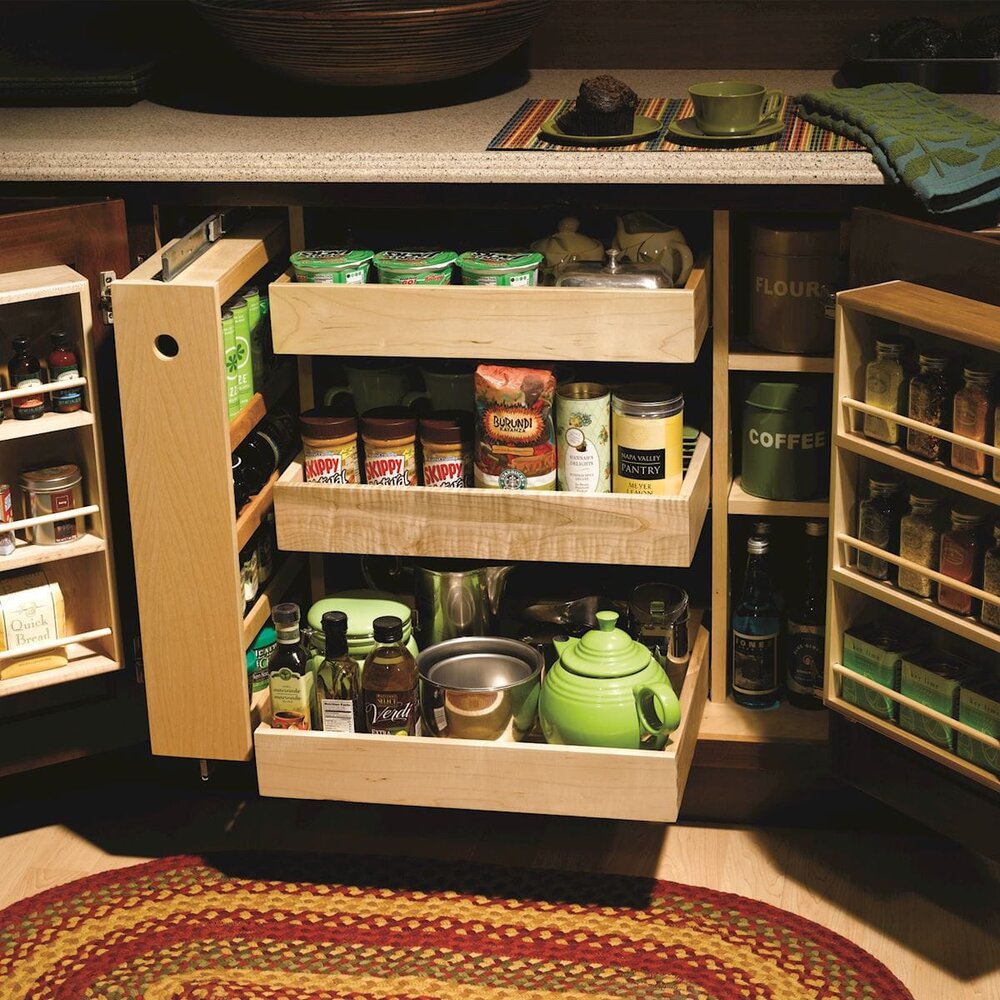 5. Make Organization an Important Part of the Decision Making
Organized kitchen is something that every family can be proud of so you should think about how you use your kitchen at most and what functionality is the most important for you. One of them are bar stools if you enjoy having your wine in it enjoying your spouse cooking for you of you wan tyour spouse to have all the cabinet space possible for extra storage. Another opting to think of is the Lazy Susan, Great Cabinet for pots or larger items that you can turn around and choose the one you need very easily.
Here are some suggestions from our partners Fabuwood Kitchens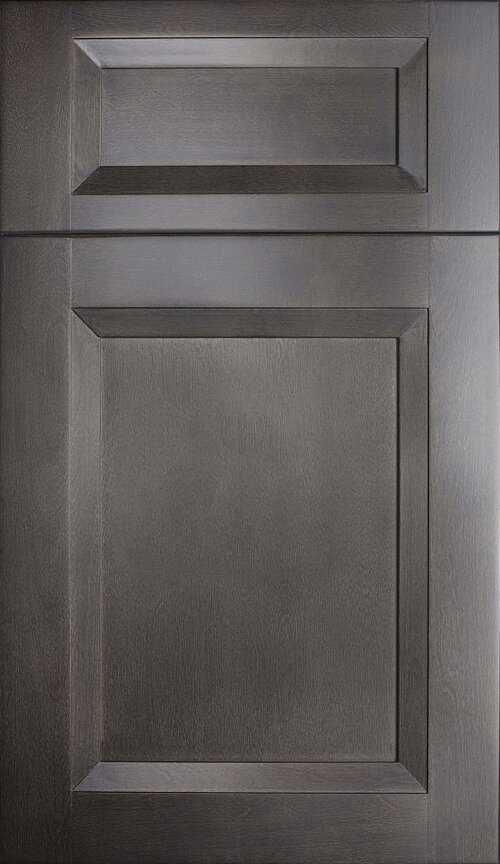 In a full kitchen remodeling project new kitchen cabinets represent the single biggest investment you will make. So, you want to get this purchase right.
When you are considering your purchase of new kitchen cabinets for your home remodel project it's best to start at the highest level and work down to the details. The highest level, in this case, would be the kitchen in general or even house style that we will list directly below. Details would mean things such as choosing kitchen cabinet hardware.
Make your cabinets match your home design
Sometimes, homeowners completely freak out when it comes time to remodel the kitchen. Ultra-modern, contemporary kitchen cabinets or something simple but functional. It is definitely your decision how you will design your kitchen. Is it going to flow with the house design or you want a separate area totally different from the other part of the house. 2 Things to consider.
New cabinetry or refresh the old ones. Think well before starting it.
Is it a house for sale or you will enjoy the design you creating.
You may later regret the decision when you have more time to think on it. By then, the kitchen cabinets are painted already and they don't look good at all.
The new buyers of your house may not like clashing kitchen-cabinet with house design.
Your house style decides on new kitchen cabinet design
One great thing about keeping your kitchen cabinetry floating with your home design is.
No need to go crazy over the type of new kitchen cabinet design you want. The home design is already telling which way to go. Here are some terms to ask for when choosing cabinets.
Arts & Crafts
Bungalow
Cabin
Chalet
Classical
Contemporary
Cottage
Farmhouse
Queen Anne
Traditional
Your new kitchen cabinets' finish color is the first thing that will stand out in your remodeled project. The cabinet stain is the most important part. For example, even ordinary wood cabinets can be stained to a very dark, rich mahogany wood-like type of wood. As you can see earlier, colors look different with different kinds of woods. You can definitely leave those decisions and advice to SITL Home Renovation and Design to help you choose the best for your home remodeling project in Fairfield County. Types of Wood for New Kitchen CabinetsSome popular types of wood are:
Oak: A reddish wood with an open grain.
Cherry: A multicolored hardwood with many specks and curls and gum pockets.
Maple: A uniform, softly highlighted wood.
Hickory: The most eye-popping wood in its natural state, hickory is a cacophony of dark streaks and dots.
Birch: A hardwood with strong vertical stripes.
MDF (Medium Density Fiberboard): Engineered wood unsuitable for kitchen cabinets in its natural state, MDF is always covered with some type of veneer such as thermofoil.
Was this Article helpful?Yes
(0) No
(0)